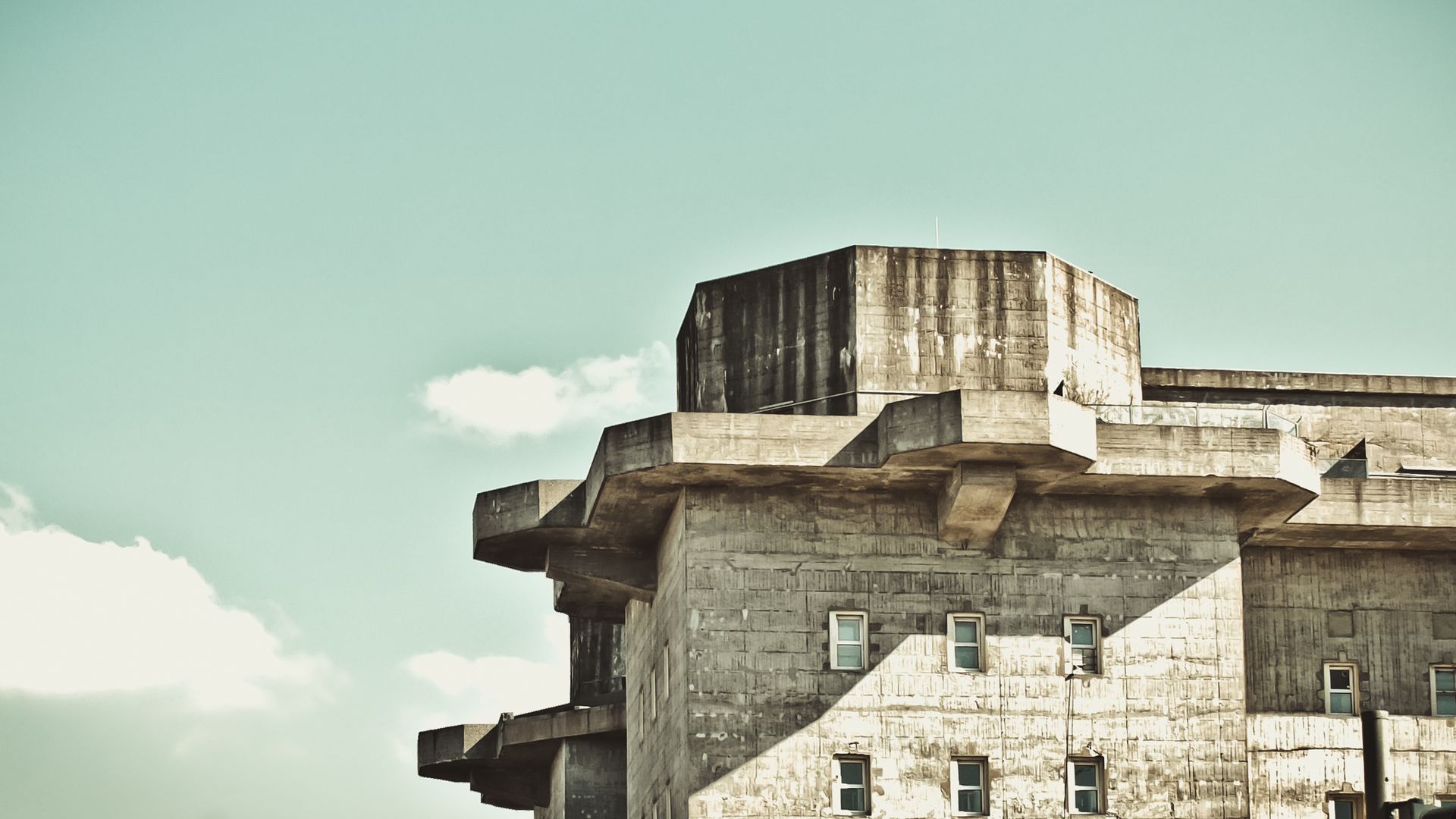 Sometimes you're facing difficult tasks in security operation like having to secure systems that are no more in a good shape. This may have various root cause, for instance you may have:
An outdated operating system like Windows XP, Windows NT, OS/2, old Linux Kernel, etc.
A qualified system that cannot be touched without losing qualification (and vendor support). You often see this kind of system on Medical Devices, Pharma/Food related production controllers and in general everywhere where computer devices are part of processes that may lead to human harm.
An unsupported application that runs on specific (mostly outdated) hardware;

POS

systems are a good example here.
A generic industrial controller device that needs to be accessible via IP network for monitoring and management.
As you may see there still are few scenarios where the normal security approach is not able to fit the requirements, and if you think there are no systems running OS/2 or Windows NT nowadays: Well, re-think – You may be surprised! ATM's are a very good example.
Fact is that on such systems you cannot install anti-virus (because there is none or it's not supported anymore) or simply you cannot install anything else, as it may break the systems functionality. Sometimes those systems are referred to as untouchable. Now you get the mood…
Another fact is that the threat scenario has increased quite a lot lately and we need to take in consideration that those systems may get attacked as long as they are reachable over the network.
We are not going to talk over the security architecture design and the related procedures that you need to implement in your network to lower the risks adopting communication zone concepts, security controls, security procedures and all the other good stuff in cyber security. In this case we'll take a much more pragmatic approach that may be used as a single solution in a small environment or as a security control in a greater environment. In our test scenario we'll take a real case that we've came across lately.
Scenario
A close friend of mine came to me with an inquiry, he told me that he was using a POS solution that runs on a Windows XP installation. Of course he knew that Windows XP not supported for the general public anymore and many applications (including his antivirus) were end of life too. The problem was that his POS application developer went out of business and there was no option to migrate to another version of Windows and the evaluation of a new system will take too long. Another issue was that the POS system needed to be online for data exchange, email and web ordering. So he asked me if I had an idea on how to limit the risk of getting malware in the age of CryptoLocker and Co.
To summarize we have to deal with the following situation:
Cannot change system as the software has been licensed on the hardware (reverse engineering is not an option)
Operating System is not getting security patches anymore
Generic anti-malware software is end of life and getting no more updates in the short term
Web-Browser software is end of life and will get no more updates
E-Mail software is end of life and will get no more updates
Therefore those would be the requirements:
Cannot change the operating system
Cannot install security software (unsupported)
Allow access to Internet with

IMAP

/SMTP/HTTP protocols
Protect from random malware
Cannot change the network layout
Solution should be affordable also for a single instance
The first thing that came in my mind was to provide a solution based on an external security device that would inspect the traffic like a firewall based on the same hardware I already presented in earlier articles with the PC Engines APU hardware appliance. The newer hardware APU2 is much more powerful and able to run firewall software with inline inspection.
Unfortunately a normal firewall configuration wouldn't work here, as I need to keep the same network design without changing IP or routing (and this may be true for several scenarios mentioned in the introduction) therefore we will need to apply a bridge or transparent firewall technique.
The same technology is used for securing network connections inside a virtual environment with products like VMware NSX Edge or Cisco NSX 1000V the firewall will inspect all communication on ISO layer 2 transparently and without changing any configuration as long as the network is connected directly to the firewall APU appliance like in the picture below.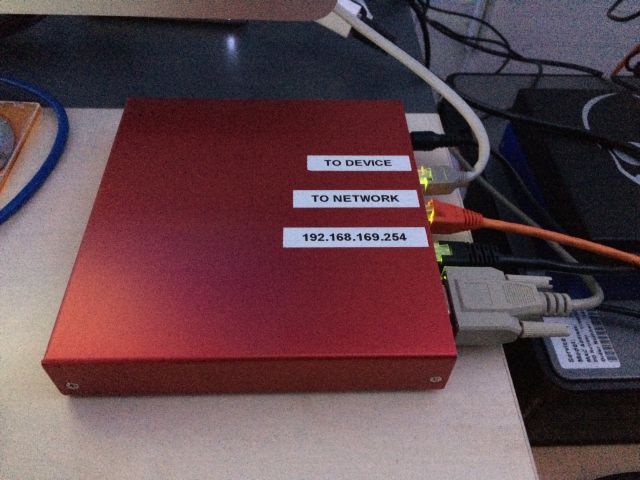 The IP address 192.168.169.254 will be the management interface of the appliance.
Solution & Prerequisites
To satisfy the requirements we'll build our solution using following components:
APU2c4 hardware
Sophos

UTM

9.4 software
The APU2c has following impressive specifications:
CPU

:

AMD

Embedded G series GX-412TC, 1 GHz quad Jaguar core with 64 bit and

AES

-NI support
Memory: 4 GB DDR3-1333

DRAM

(

ECC

)
Power: 12V DC, 6-12W depending on

CPU

load
Connectivity: 3 Gigabit Ethernet channels (Intel i210AT)
I/O: DB9 serial port, 2

USB

3.0 external + 2

USB

2.0 internal, SDcard reader
Expansion: 2 miniPCI express, 1 mSata slot
The Sophos UTM 9.4 firewall has all required features (Inline Intrusion Prevention, Application Proxies, Web Configuration) and will run just fine on the APU hardware. You'll get a home edition online. Just follow the steps to get your license and select the Software Appliance ISO download when you're done.
Following components are needed to build our appliance:
The price for the appliance is not expensive but fits most performance needs in our scenarios; you'll find more information about the hardware in the APU2 manual (PDF).
Before we'll start with the installation process, please take a look on the previous article on how to get ready for the serial port setup and its prerequisites, especially in the section Configure The Terminal Console Environment.
One last requirement: We need an external USB-DVD/CD reader and an USB keyboard, I know it's a bit odd, but the UTM installation is a bit tricky and this is the only solution that will work without having to deal with a blind installation and the correlated pain.
Installation
Initial Configuration
Now that the APU is installed with the Sophos UTM Software lets finish the configuration and apply our security policy:
Working Configuration
Now that the APU is installed with the Sophos UTM Software let's finish the configuration and apply our security policy:
Monitoring
Conclusion
The simple solution proposed in this article can be applied on several scenarios where more devices are involved instead of securing a single PC and will greatly improve the security level of the installation. The APU appliance has enough power to handle several connections at once.
The issue to secure devices that are untouchable or no more supported is a clear and present danger and most likely not be solved in the short term. A security strategy to handle this risk should be developed from the simple one PC device to the framework of industrial controllers out there having network access.
About the Author
Links
You need support in such a project?
Our experts will get in contact with you!